Experience Next-Level Face Animation with AI: Best Animated Face App | Pixbim
Are you on the lookout for the best animated face app out there?
Are you ready to witness the power of the best character ai generator tool on the market?
Then Pixbim Animate Photos AI is a great option to consider. You can use this animate face app to push the boundaries of creativity and innovation. That's because anyone using this face animation app can bring a static image to life. This is a hassle-free and easy to use solution available to animate any face.
Let's learn more about the Pixbim face animation app and see how to start using it.
What is Pixbim Animate Photos AI ?
Behind this ai face animation app, you can find deep learning algorithms, which analyze facial features, movements, and expressions. As a result, you can end up with generating realistic face animations which is precisely synchronized with your audio file. These animations can capture the essence of the person in photo effectively.
This ai face animation app is easy to use with a single click. You can transform a face into an engaging and dynamic life like animation through the face photo animation app. If you are searching for an app that animates your face, this is a good option to go with. This is the best app can animate your face magically within seconds. Using GPU computer version, you can able to achieve this quick results.
Download Pixbim Animate Photos AI, an ai powered face animation app free, before making a purchase.
DOWNLOAD FREE ANIMATE PHOTOS AI 
Let's take a quick tutorial on how to create a face animation with lip sync using Pixbim Animate Photos AI
Step 1: Launch the Pixbim Animate Photos AI software.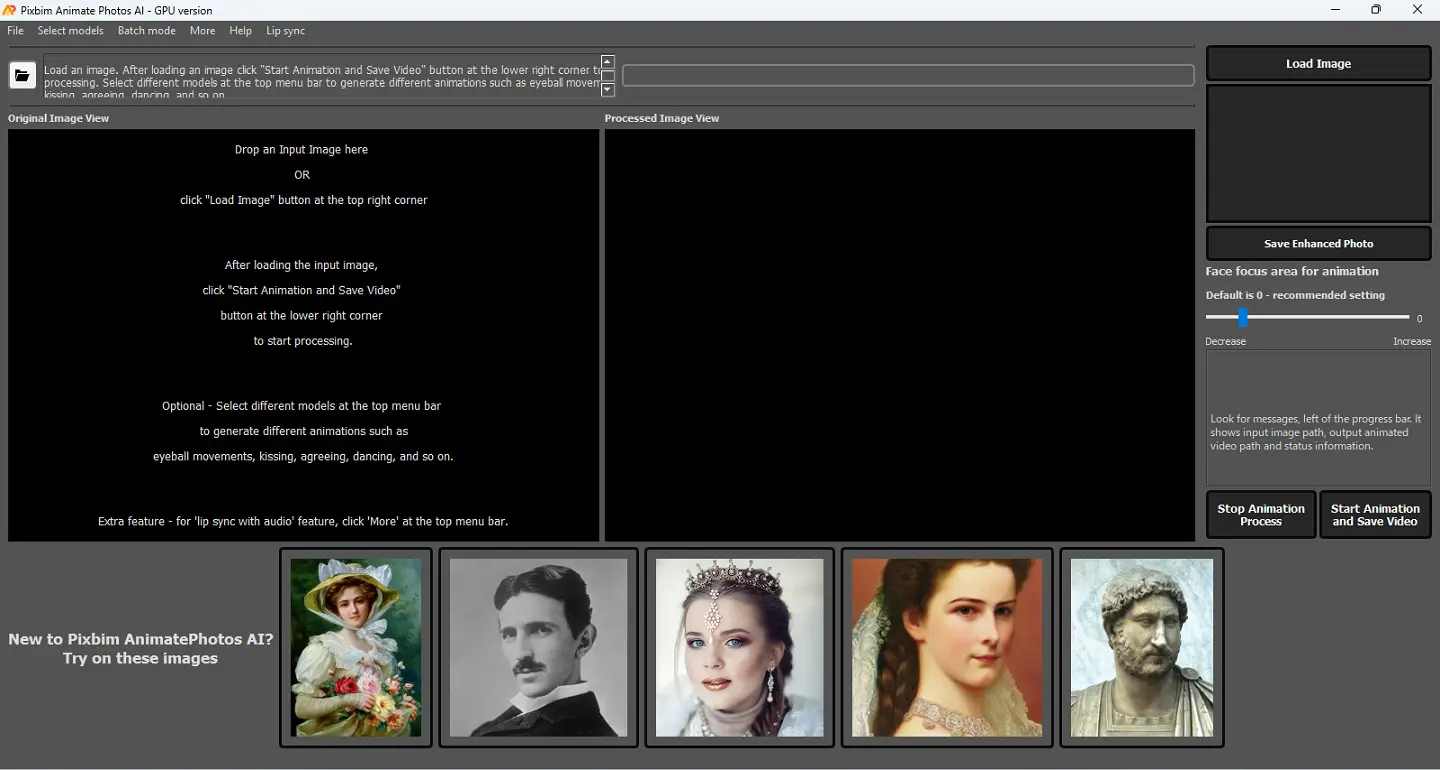 Step 2: Enable 'Lip sync with audio'
Click the option 'Lip sync' from the main menu bar at the top and enable 'Lip sync with audio'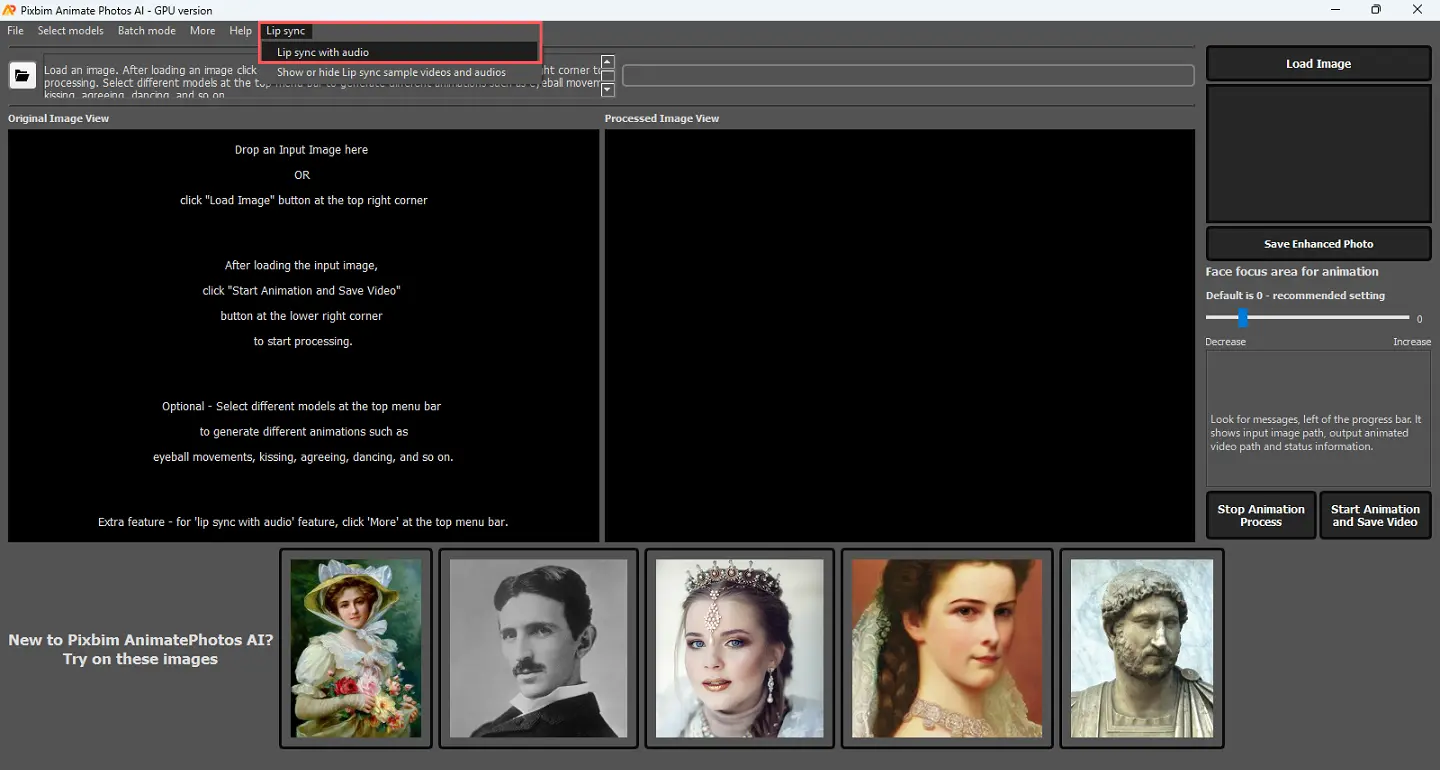 Step 3: Load the input image.
Click the button 'Load  input image for lip sync' provided at the top right corner and upload an image that you want to animate face.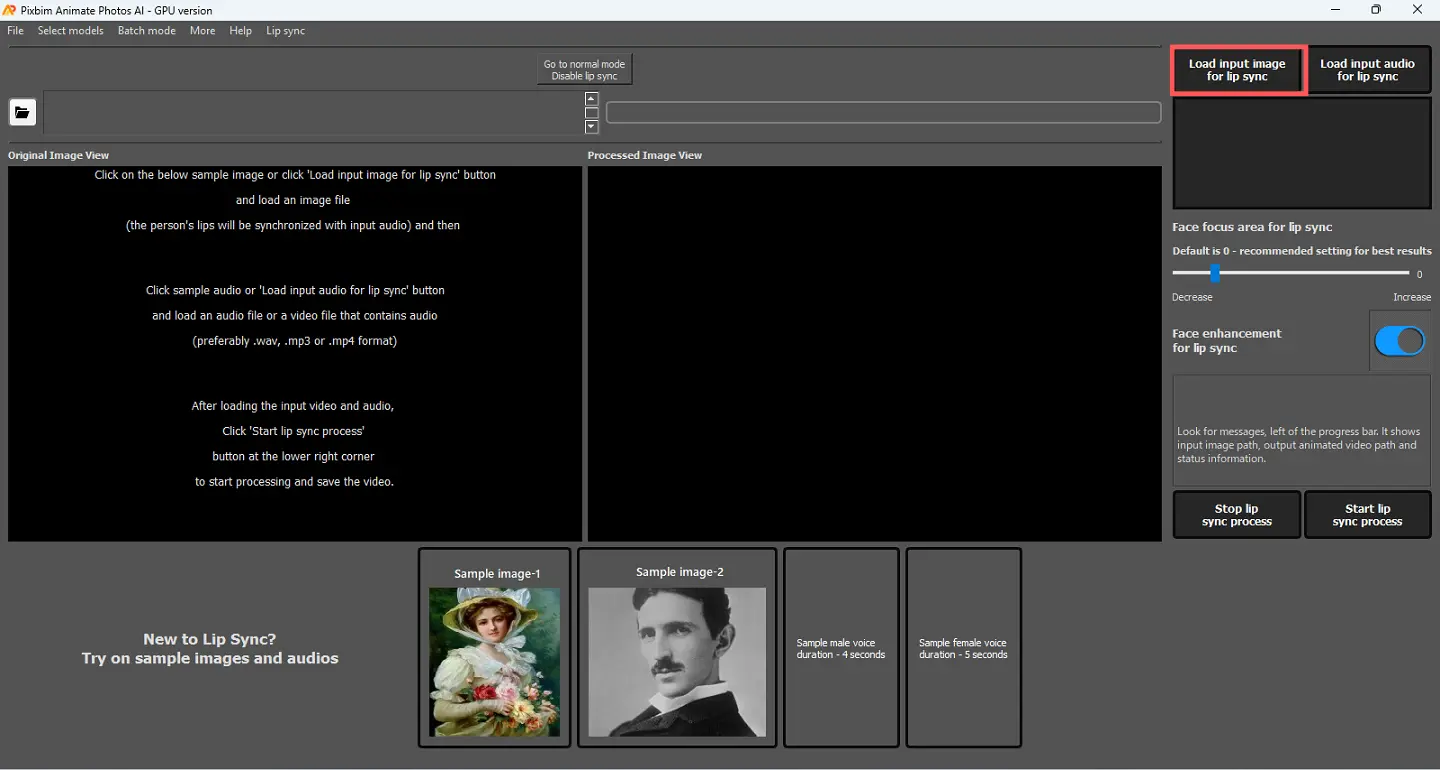 Step 4: Load an audio file.
Click the 'Load input audio for lip sync' button and upload the audio file you wish to synchronize with the facial animation.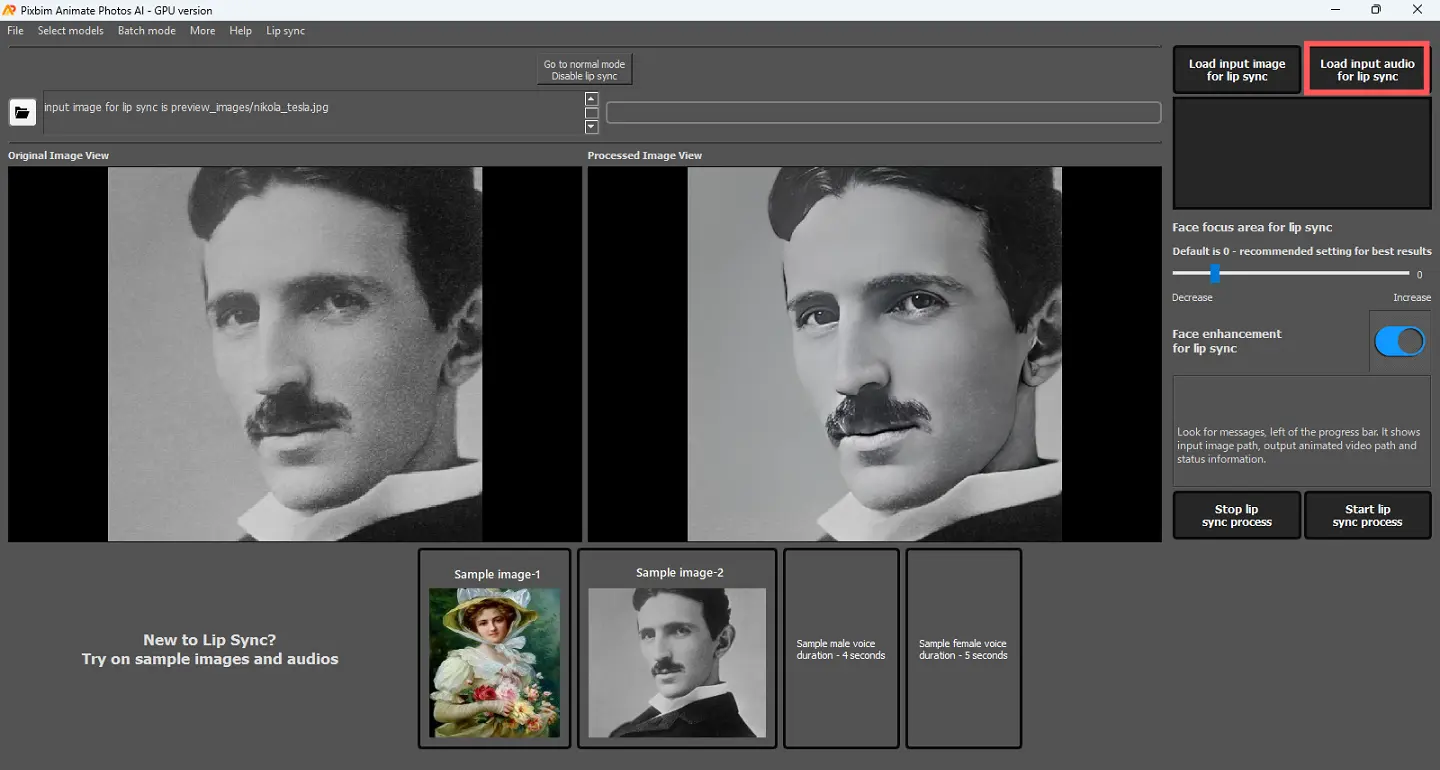 Adjust the focus area of the lips using the 'Face focus area for lip sync' slider according to your preference. Additionally, enhance the facial features of the photo to ensure better lip synchronization during the facial animation.
Step 5: Start the process and save the output.
Click 'Start lip sync process' and save the output video at your preferred location.Enjoy the output.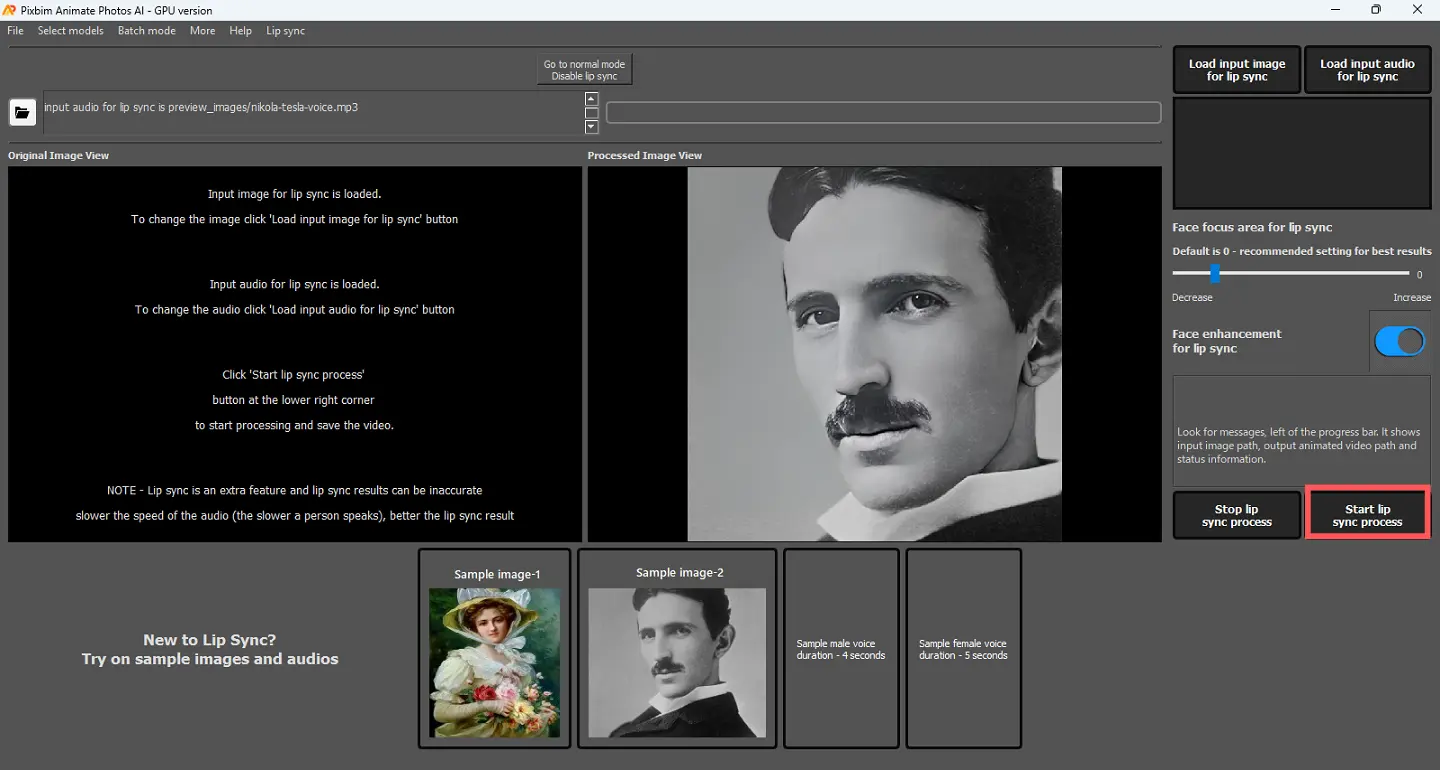 How does Pixbim Animate Photos AI, the ultimate ai face animation app, deliver exceptional results?
If you are impressed by the features of this animated face app, you must be wondering how it does such a perfect job. Secret behind this animate face app is its advanced ai based algorithms. Using this deep learning algorithms, the face animation app can effectively analyze facial features.
Lets see some of the features that make the Pixbim animate app which makes more effective and exceptional
Face enhancement for lip sync :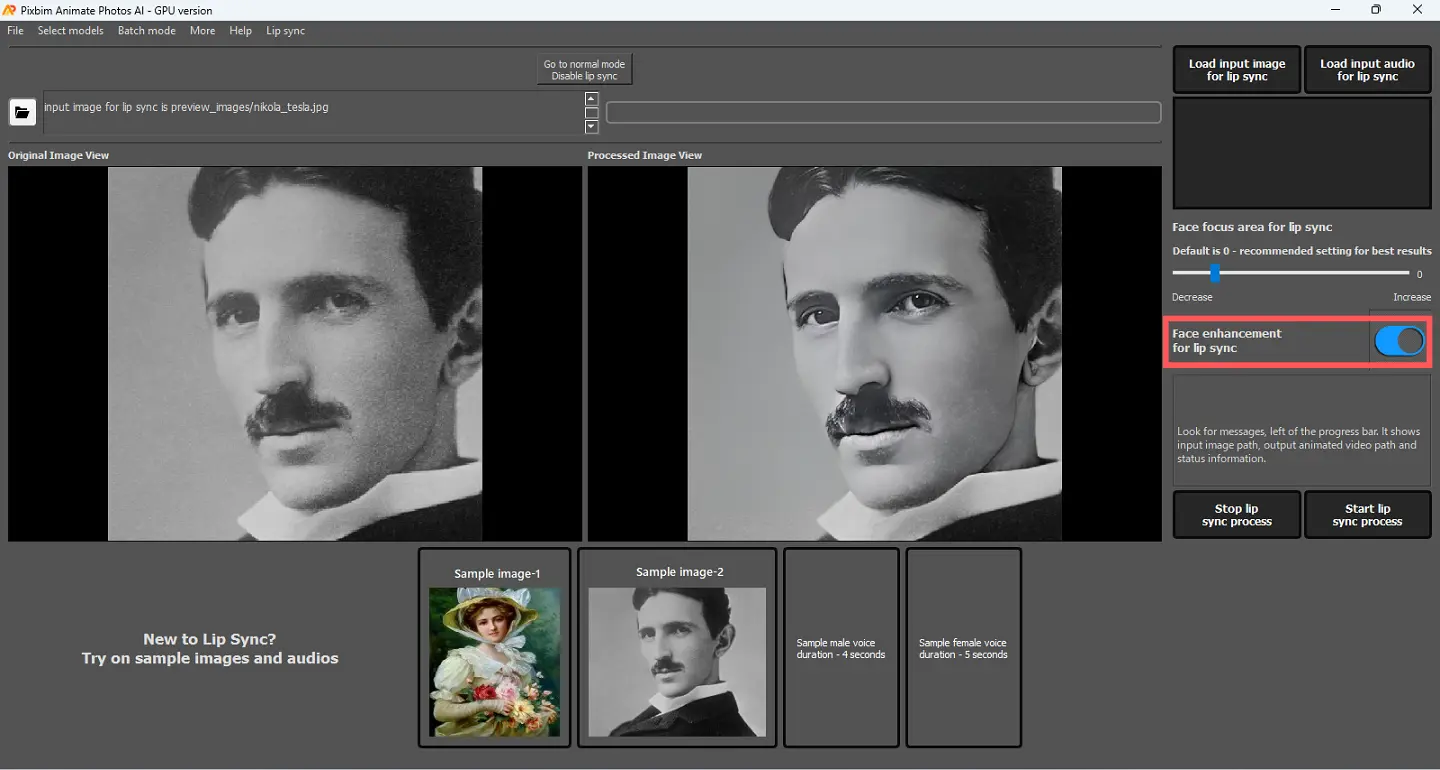 Photo enhancement is crucial for any face photo animation app. If you need to animate an old photo with low-resolution, you may think about using this option. Pixbim Animate Photos AI is not just an app to animate your face. This is a face photo animation app supports and enhances image during the animation process. It can deliver magical results to you with the click of a button.
The deep learning algorithms available behind the animated face app helps to generate higher-resolution images. Hence, you may think about using this tool to review old memories with improved visual quality. You can transform them into visually stunning animations as well.
Face focus area for lip sync :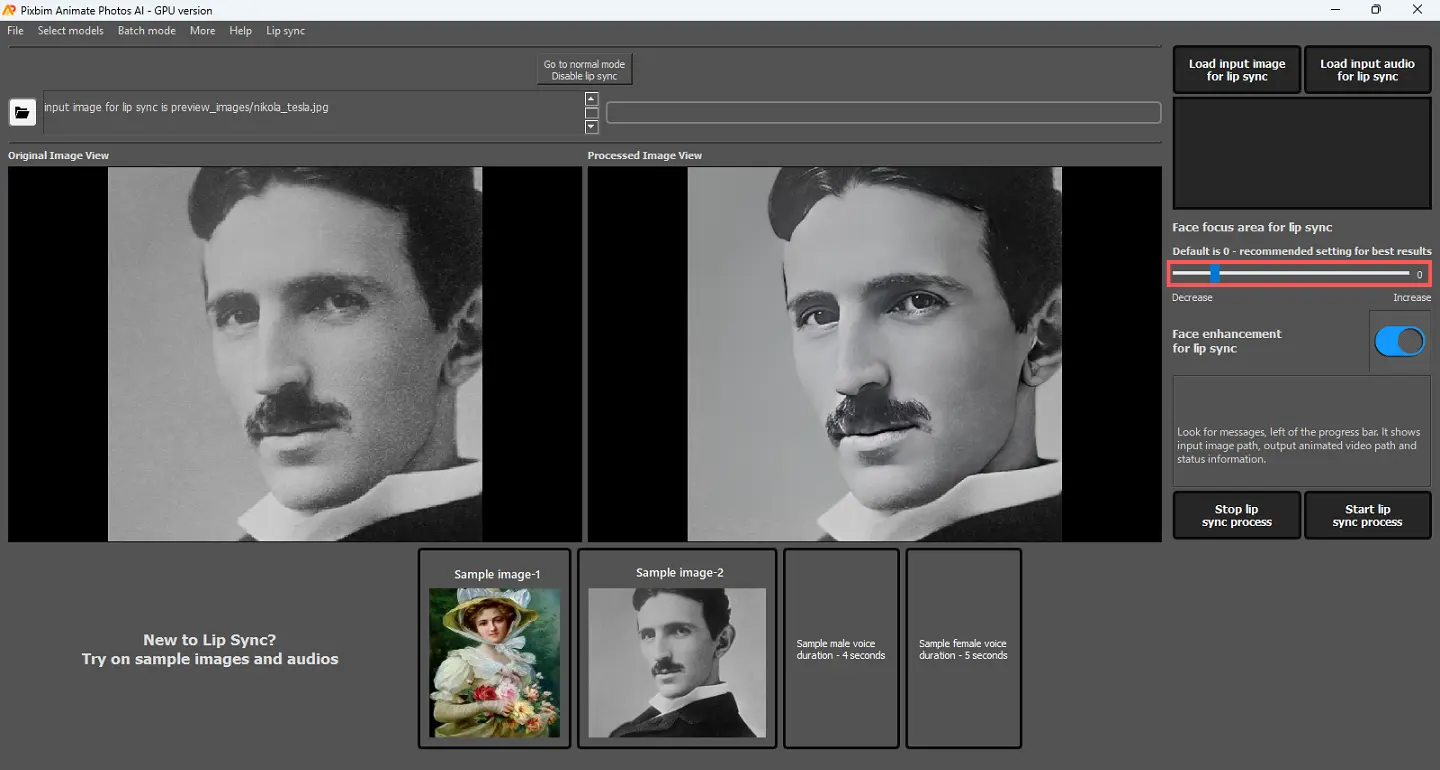 This feature enhances the effectiveness and power of Pixbim's face photo animation app program. users have an ability to adjust the focus area of the image, enabling precise lip synchronization that results into a more realistic and enjoyable experience.This Pixbim Animate photos AI is a remarkable app to animate faces with just a click.
You don't need to work with complex editing tools to animate a face. Whether you are a starter with no prior experience or a professional editor Pixbim face animate app covers you from all challenges. Try this face animation app free and check out the wonderful result, before making the purchase decision. The advanced algorithm facilitates this app to animate faces very easily with a click and is considered the best face animation app available in the market.
Try Pixbim's trial free face animation app and generate realistic animations.
TRY ANIMATE PHOTOS AI FOR FREE
How well does the lip sync feature perform in pixbim animated face app?
When reviewing Pixbim ai face animation app, it is worth to take a look at the lip sync feature that comes with it. You can use this feature to sync the movements of lips with any  audio file. As a result, you can easily create lip-synced videos that look realistic and captivating.
Whether you are producing content for education, entertainment, or marketing purposes, you can use this animated face app and make it more interesting and presentable. This ai animated face app animates your face within a minute and make your content look engaging and impactful.
How our ai animated face app surpasses customer expectations in purchases?
Pixbim Animates Photos AI not only functions as ai face animation app. It comes up with lot of features like photo animation for specific gesture (like dance, kiss, agree and wink), Lip sync animation and Photo enhancement.
One time fee and life time subscription:
Pixbim program is available with one-time fee option, providing you with lifelong access at no additional cost. You can animate and make videos for life time, just paying once.
Forget Monthly Subscription and try Pixbim Animate Photos AI for Face Animation.
BUY ANIMATE PHOTOS AI @ 49.99$ 59.99
Regular free upgrades:
Pixbim regularly offers free upgrades for all its software programs, providing users with the added advantage of accessing new features and staying up-to-date with the latest technology. This ensures an effective user experience and keeps users connected with the advancements in the field.
100% privacy ensured:
Considering the data breach and data thefts from online, pixbim always comes with standalone software programs. Pixbim Animate Photos AI is best offline face animation app available in the market. This ensures user to feel safer and save the data on their own local system.
Final thoughts:
Now you know what Pixbim's animate face app is about and their features. You can use this app to easily animate a face. The face animation app is appealing to anyone, regardless of the skill level, thanks to the outstanding selection of features that come along with it. Anyone can download this app for free and start using it.
DOWNLOAD FREE ANIMATE PHOTOS AI
BUY ANIMATE PHOTOS AI @ 49.99$ 59.99
More from Pixbim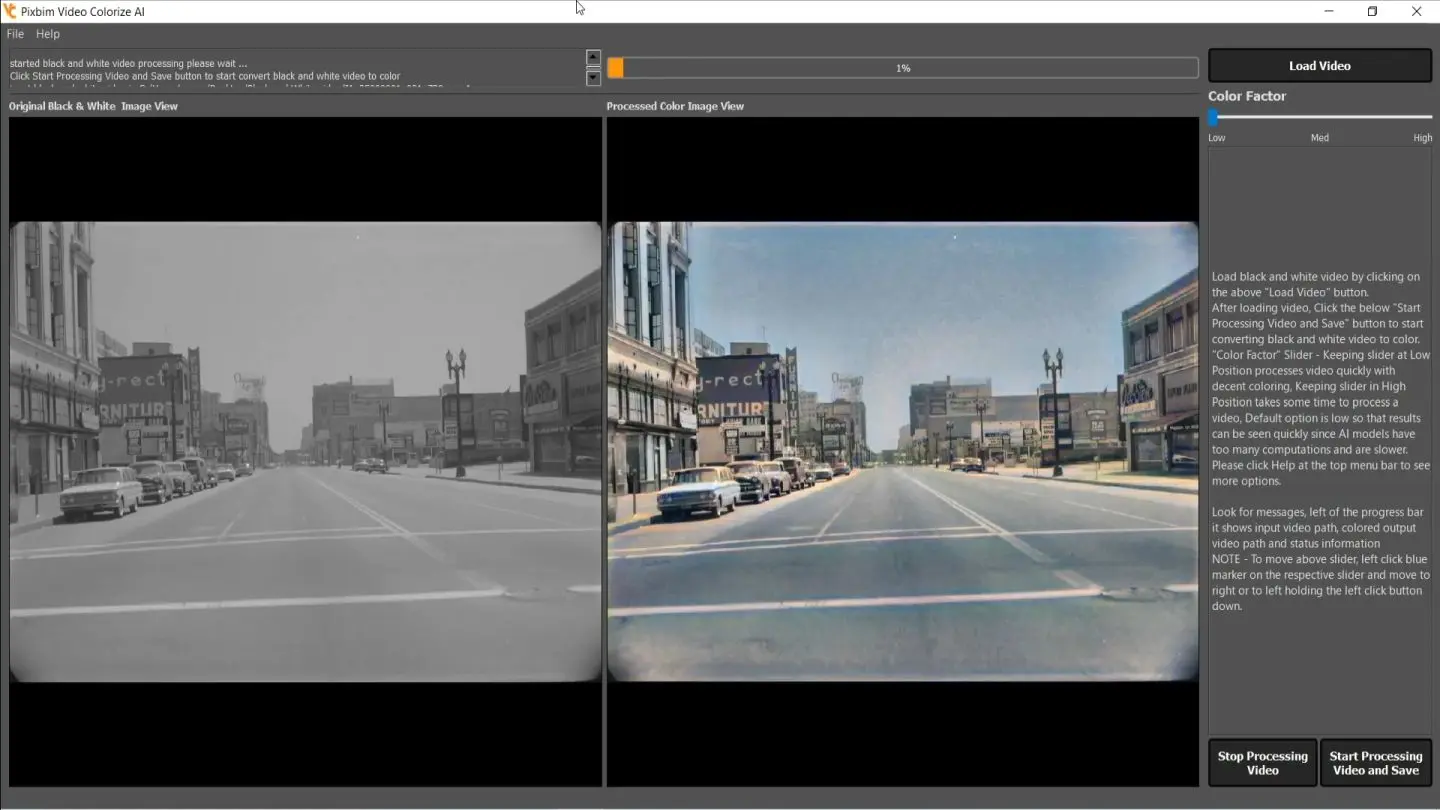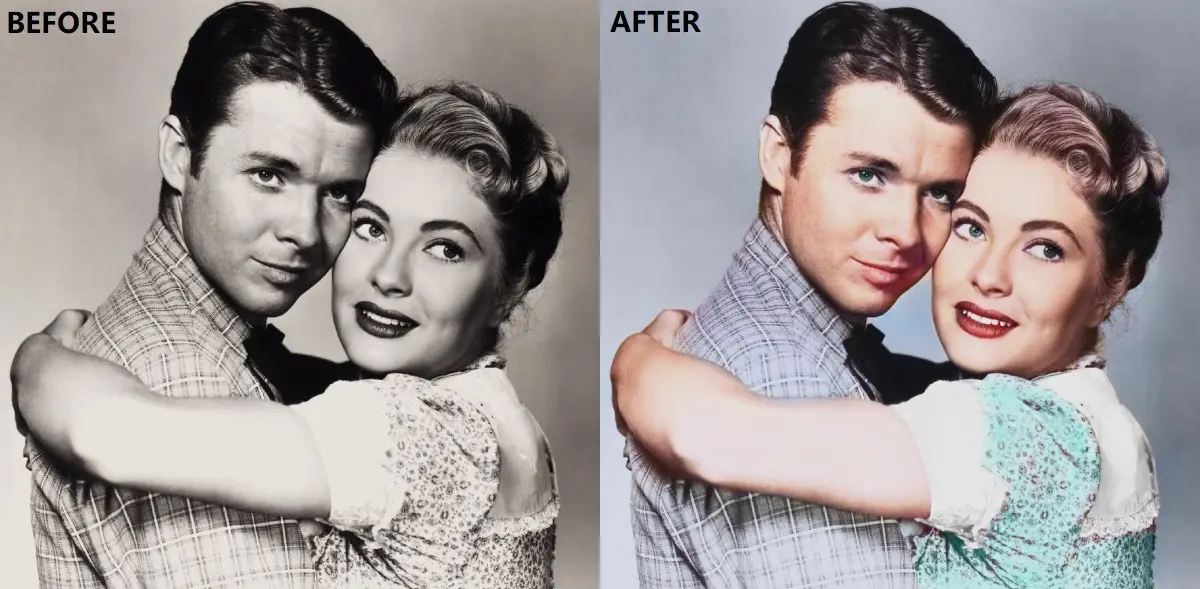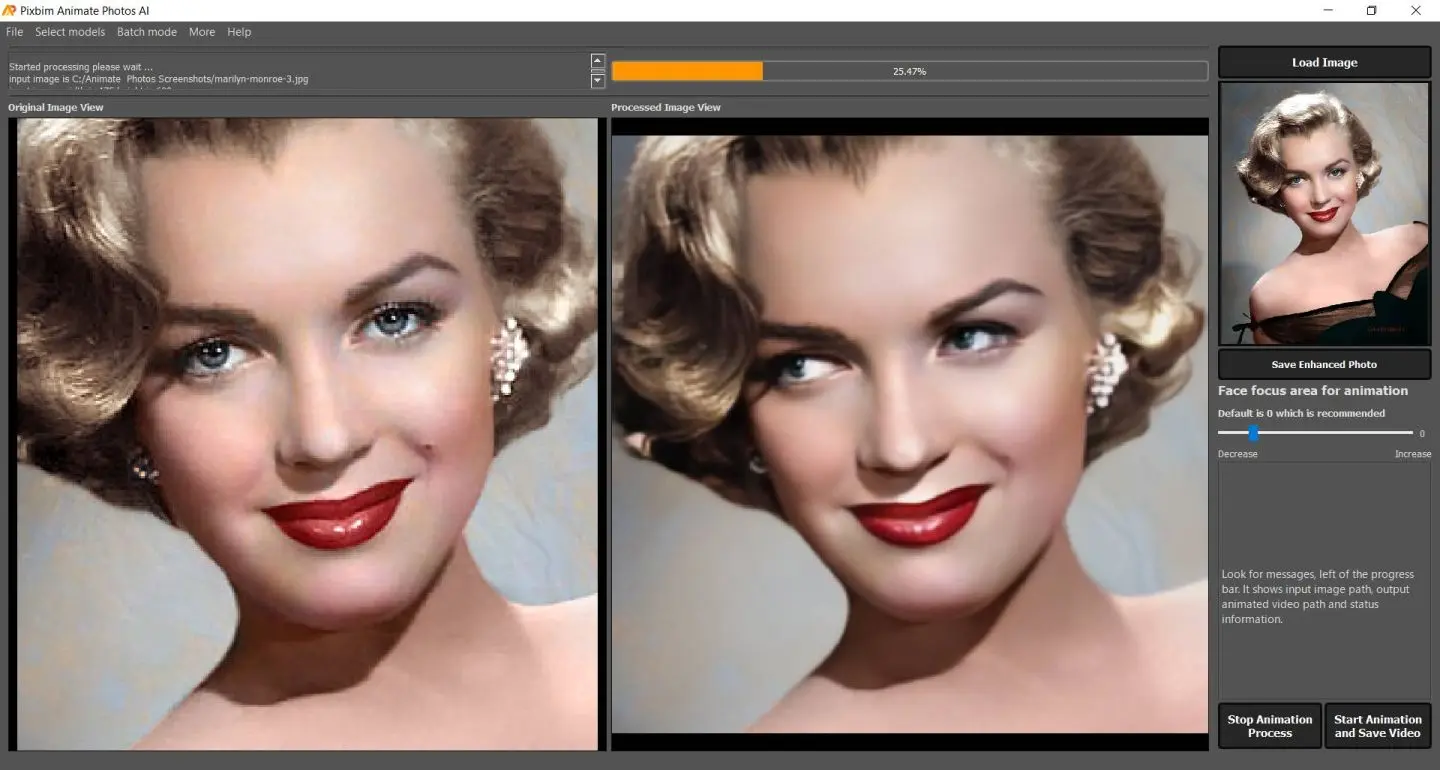 Join to receive notifications about free product upgrades, Learn more about Pixbim's innovative ways to solve problems