How To Remove Unwanted Objects From Photos?
Below, on the left side, is the original image depicting a man standing, while on the right side, the man has been successfully removed using Pixbim Object Remover AI

We all strive to take that perfect shot that brings out the best of our features and serves as a cherished memory of the adventure or event. But to get that crazy perfect shot, we usually have to undergo hundreds of takes and retakes. With your face bathed in ample natural light and against a stunning backdrop, and settling into a confident posture, you were all set to capture that perfect snap. However, unwanted visitors, objects, or photo bombers can effortlessly ruin an image
What is the solution?
Should we consult a professional editor to remove the unwanted photo bomber, or should we download a photo editing app to eliminate unwanted objects from the photo?
But Then Reality Hits
The reality is that Photoshop experts are expensive, while authentic photo editing programs are time-consuming options besides being costly. But wait, we have a third option for you: use the Pixbim Object Remover AI. Equipped with advanced artificial intelligence programming, the software professionally and automatically removes unwanted objects in just a single click without breaking the bank.
Want to know more about the app to remove unwanted objects from photo?
Stay with us till the end to learn all about the fantastic object-removing software.
What Is Pixbim Object Remover AI Software?
Photography has come a long way in this era of technological advancement, but the good stuff is also expensive and difficult to work with. Pixbim Object Remover is a standalone software or offline desktop-based photo editing software that produces amazingly realistic results. It is powered by artificial intelligence and has preset algorithms that automatically remove all kinds of unwanted objects from photos immediately.
You can remove people, text, watermarks, poles, timestamps, and anything that destroys the aesthetic appearance of your image.
After removal, it intelligently fills in the missing pixels. The easy-to-use design further adds to its attraction, making it the best app to remove unwanted objects from photos for both amateur users and photography experts.No Prior editing skill is needed for operating this software program.
That is not all; Pixbim Object Remover is also excellent for fixing old damaged photos. Upload the scratched and damaged picture into the software and use the 'Auto-Fix Scratches' option to automatically remove the scratches, tears, and spots. To further enhance your image quality, it also comes equipped with an 'Auto Fix Image Colors and Remove Noise' feature to fix the noise and improve colors on photos.
How Does Pixbim Object AI Remover Work?
Pixbim Object Remover produces incredible results by combining artificial intelligence, image processing, and deep learning technology. The software has a manual brush to specify the area or object you want to be removed. Once the object is removed, using artificial intelligence and image processing technology, it automatically replicates the surrounding image and fills in the missing pixels to preserve the originality of the image.
The entire process is incredibly effortless thanks to its user-friendly interface and deep learning mechanism that eliminates any chance of error. You can easily remove unwanted objects from as many objects as you like and give your photos a professional look without any hassle.
 The screenshot below illustrates watermark was removed from the image's right side, which is actually positioned on the left side of the image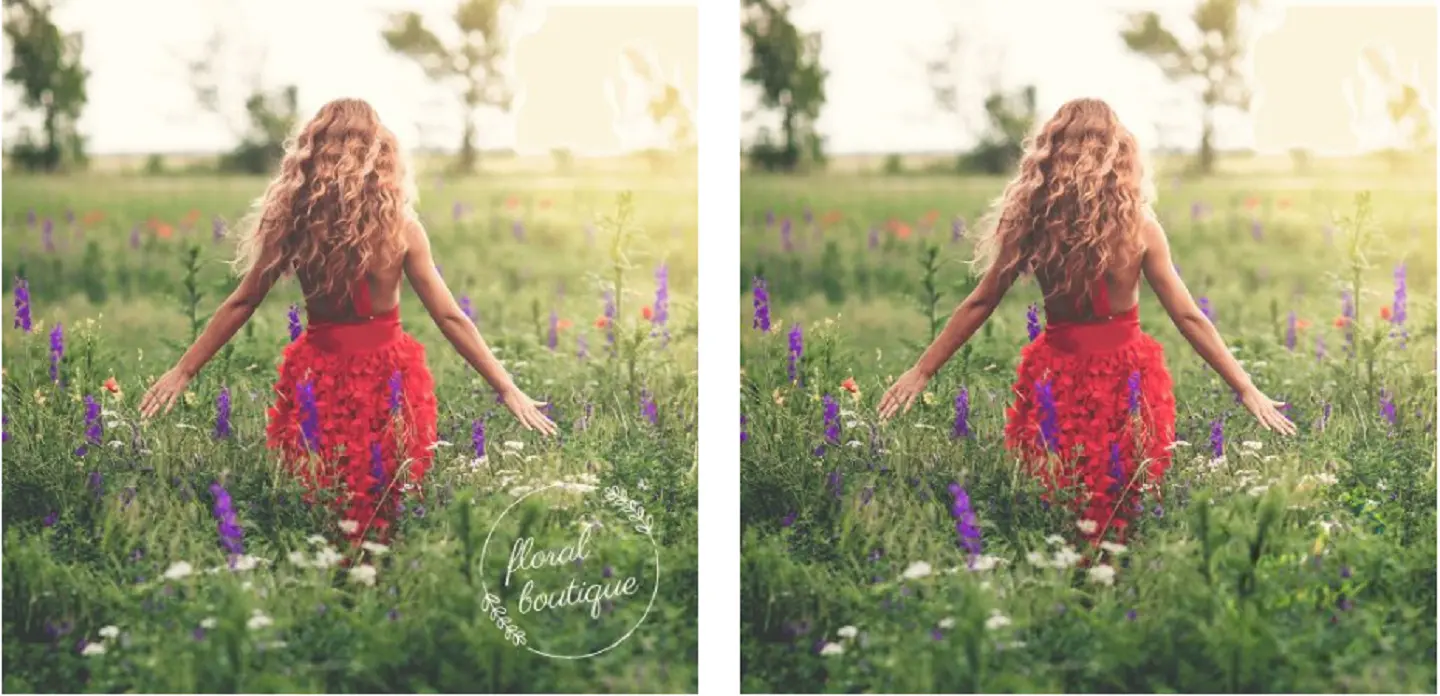 Features of Pixbim Object Remover
Though the software is simple, it is definitely not short on features, making it the best app for removing unwanted objects from photos. The most notable features of the object remover include the following:
A One-Click Operation
Don't we all want to perform complex tasks by exerting minimal effort and saving time?
Luckily, Pixbim Object Remover helps us achieve this. It has a linear operation model. The entire object removal and the pixel-filling process is finished in just a few steps, while the removal work is done automatically with a single click. With Pixbim Object Remover AI, you can obtain high-end results without fuss or stress.
Removes Anything & Everything
It does not restrict you from removing objects from photos as it is designed to be perfectly helpful in every situation. Whether you want to remove big objects or small ones, or whether you want to eliminate scratches, Pixbim Object Remover will perform the trickiest task with perfection.
Private & Protected
Privacy of our data is what restricts us from uploading our pictures to remove unwanted objects from photos online. But Pixbim Object Remover stand-out here as well. Being a desktop-based program, it does everything on your system, from uploading a photo to generating a new version to saving the final output image on your PC as well. In short, there is no room for uploading data to the server or catching viruses or malware.
One-Time Purchase, No Subscription
This one might be the most attractive feature of Pixbim Object Remover AI. We all know that almost all reliable photo-editing tools are subscription-based, making them expensive, especially for people who do not use them regularly. However, Pixbim has put an end to this practice.
Remove unwanted objects from the photos app is available for a one-time purchase at only $37.99 with free lifetime updates.
Free Trial Version
This is another fantastic feature we love equally. Pixbim allows you to use the software for free for 7 days with all its features accessible to you. You can process unlimited photos at this time and easily determine if the software is for you. You can remove unwanted objects from photos free.
Is Pixbim Object Remover Easy To Use?
Pixbim Object Remover AI is by far the simplest photo editing on the market. After downloading and installing the software on your computer, you only need to follow these quick steps:
Step 1: Load the Image
Launch the software on your computer/laptop and upload the image into the software. There are two ways through which you can upload your photo. You can use the drag-and-drop tool or click on the 'Load Image' button which is shown in the top right corner to import the image into the preview window.
The screenshot below illustrates the process of loading the image from which an object needs to be removed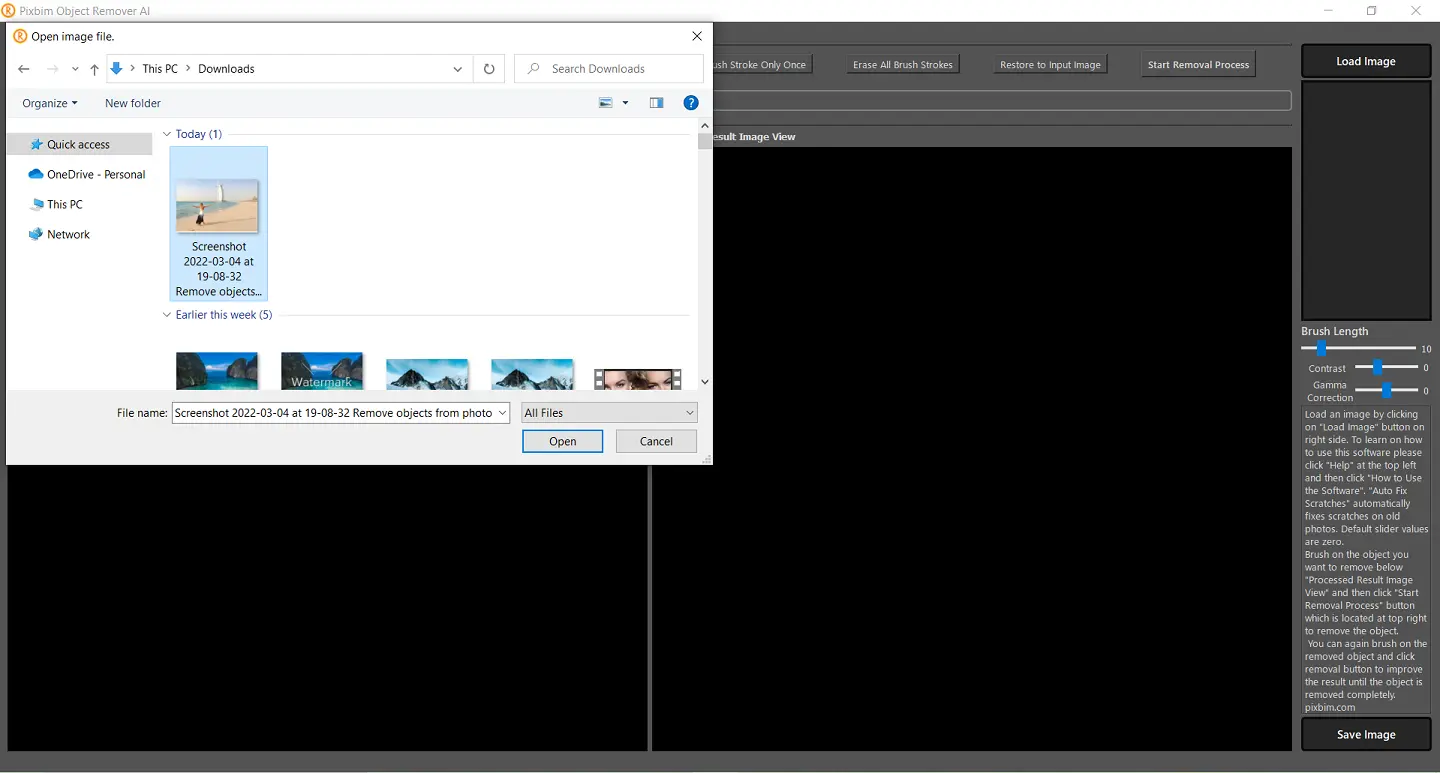 Step 2: Click "Start Removal Process"
Now, you have to adjust the thickness of the brush depending on the section of the image you want to remove. If you want to remove a bigger area, choose a thicker brush, and for small objects, a thin brush will do just fine. Next, you have to swing the brush on the image and click on the "Start Removal Process" to remove the unwanted object from the photo.
The screenshot below demonstrates how the brush length is selected and applied to remove the person, initiating the removal process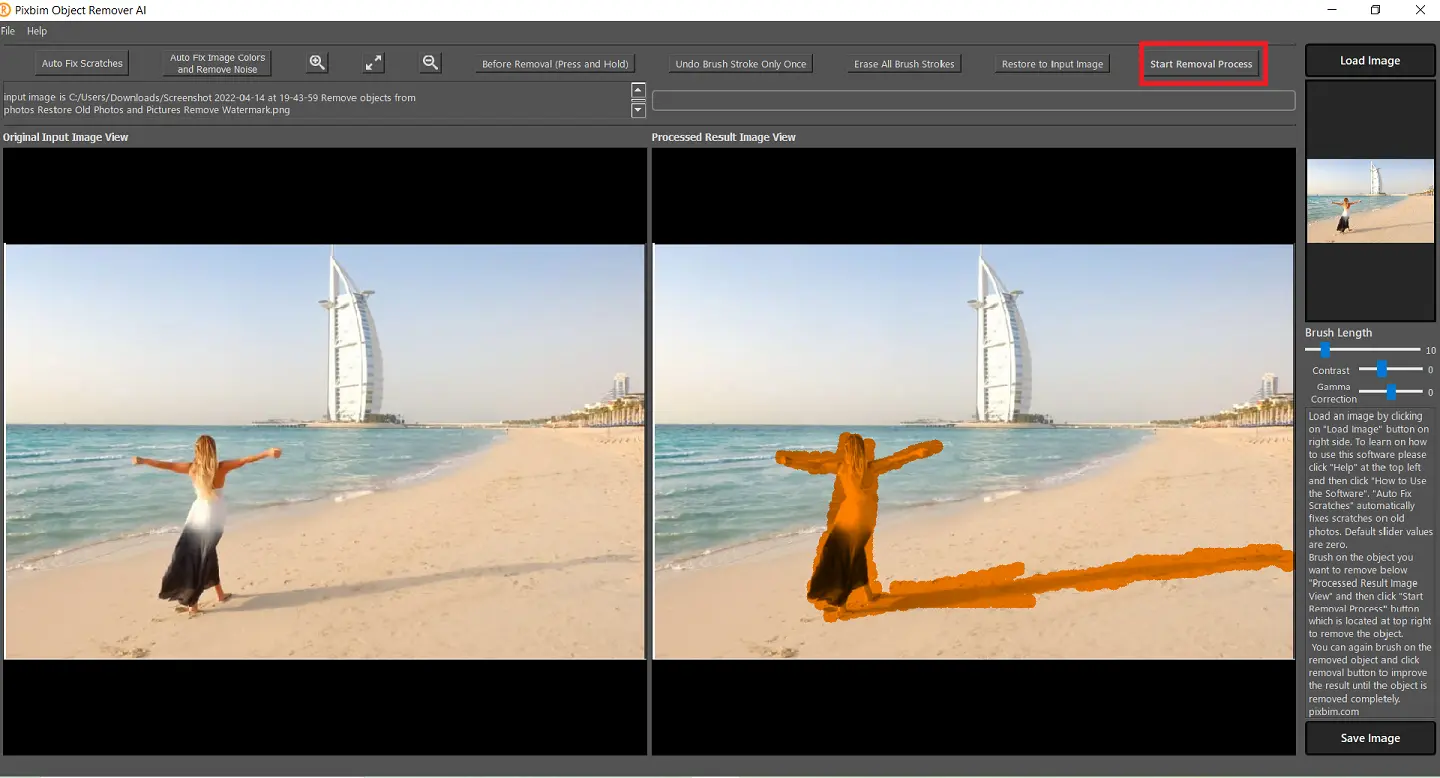 Step 3: Click Save Image
Once you are satisfied with the image, click on the 'Save Image' option to save it on your system. The software will ask you to specify the type of image you want to save, such as JPG, TIFF, or PNG.
The screenshot below demonstrates the successful removal of the person from the image and highlights the option to save the modified image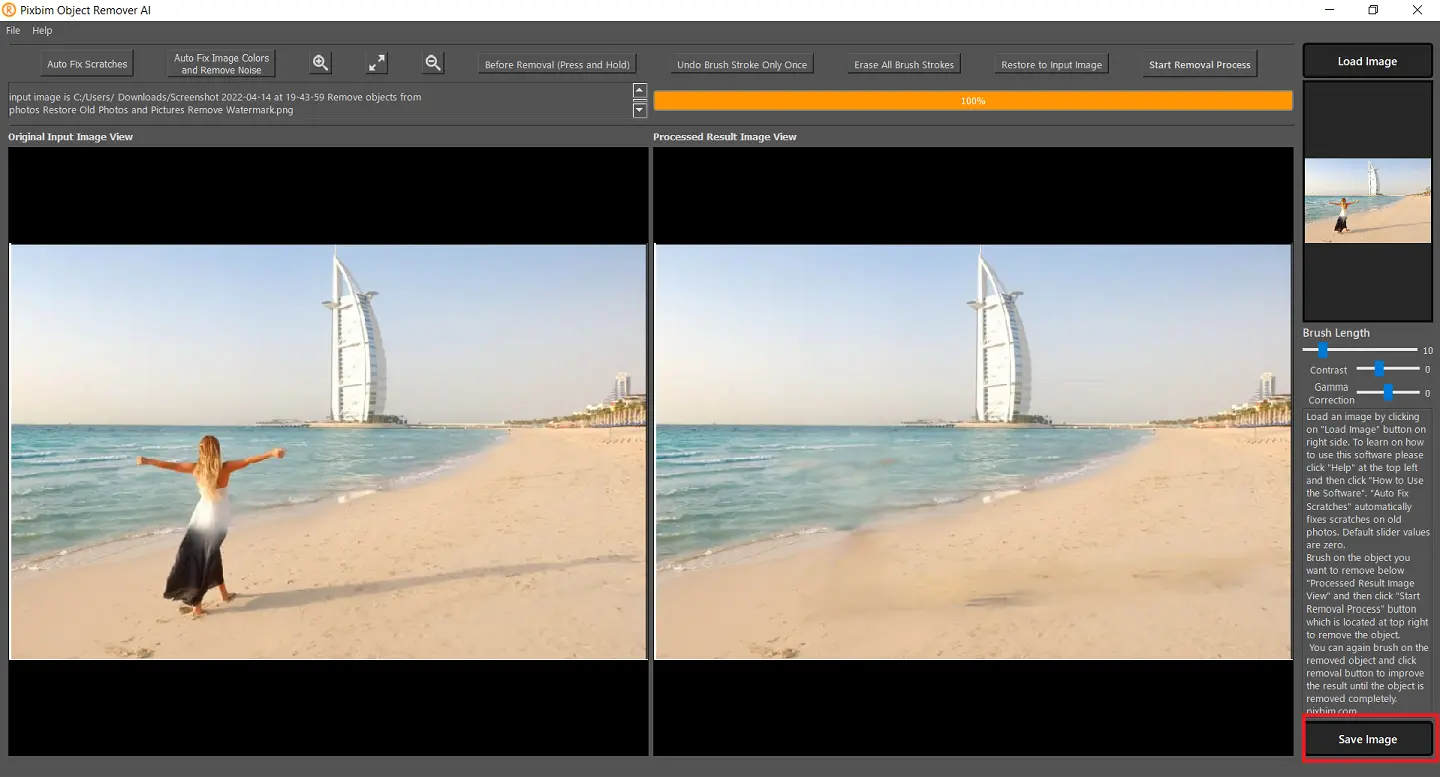 Final Thoughts
Unwanted people or objects can destroy a photo. Not to forget, old photos have scratches, lines, and spots that damage their beauty. But you can fix all these problems by using Pixbim Object Remover AI, an all-in-one tool smart for all your needs.
More from Pixbim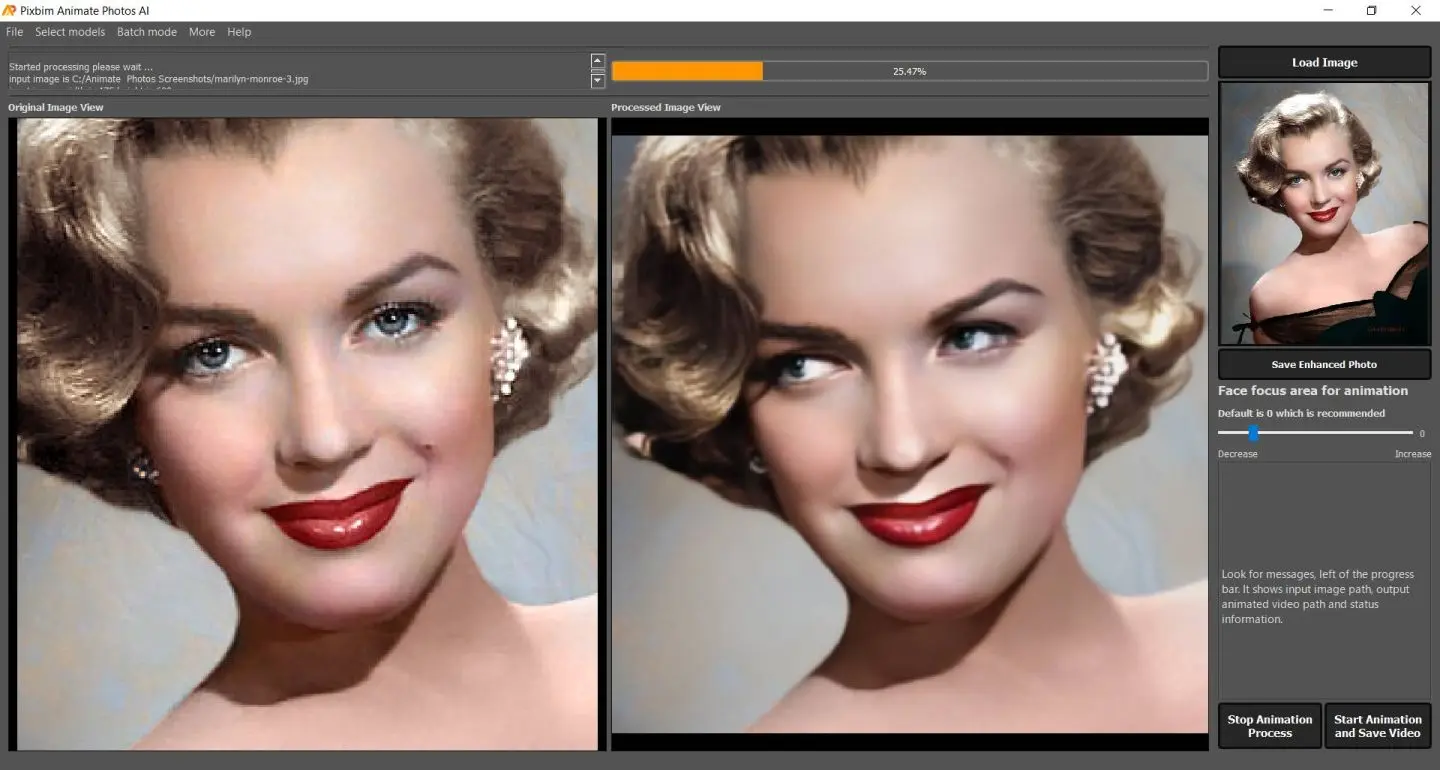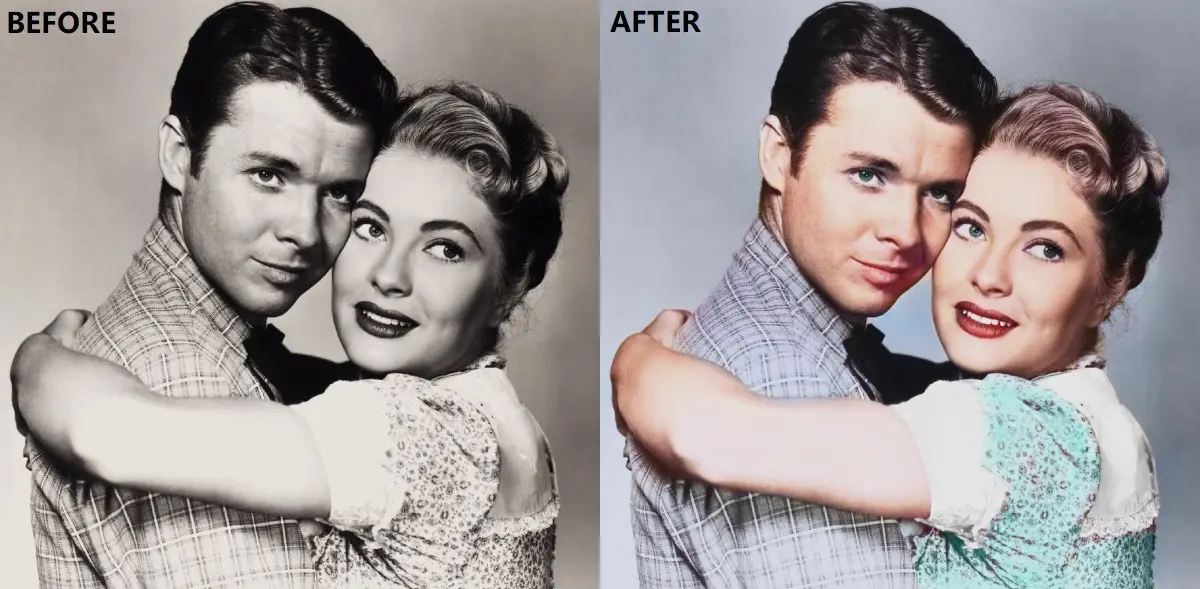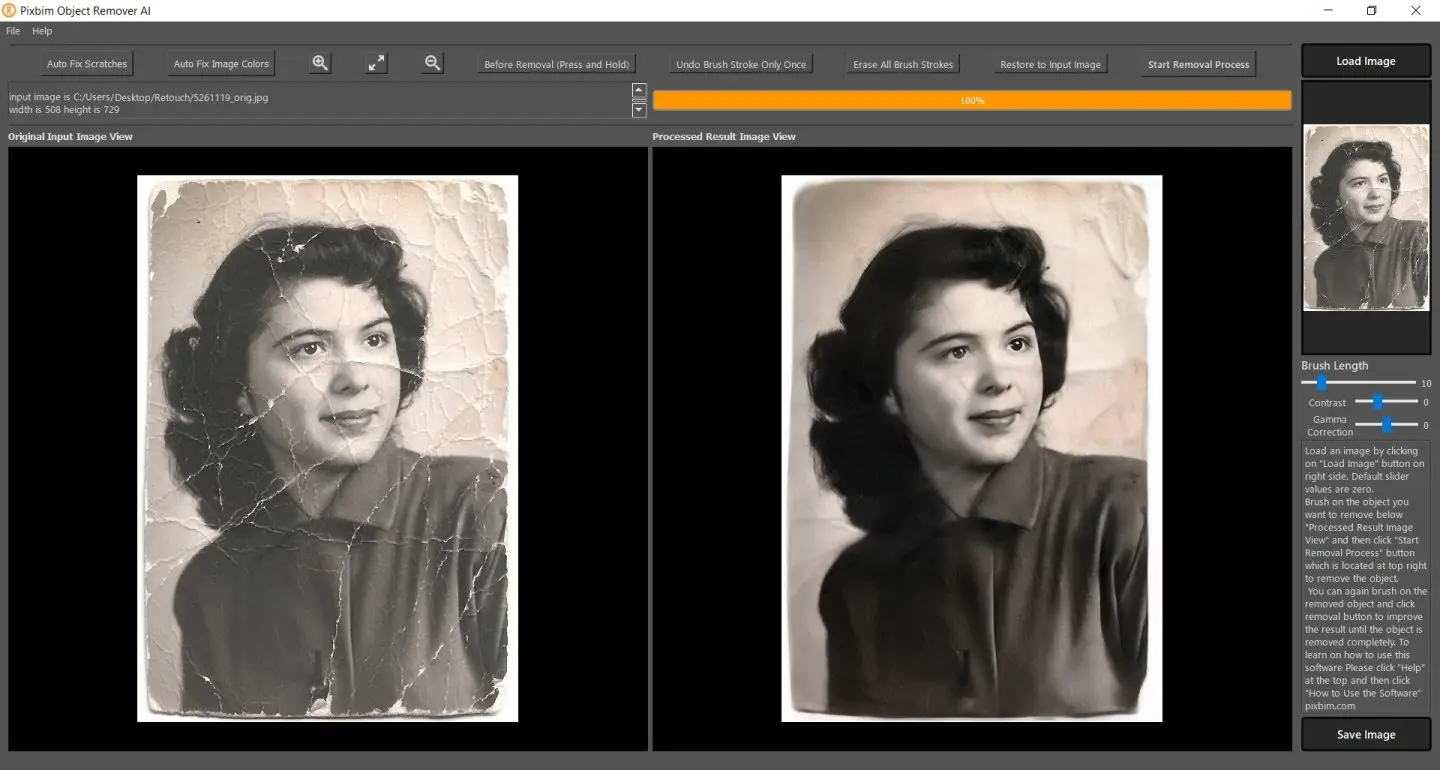 Join to receive notifications about free product upgrades, Learn more about Pixbim's innovative ways to solve problems