World class video watermark remover and logo remover that works on your desktop or laptop, powered by AI.
Remove watermark from video without blur

Remove logo or tiktok watermark from video

Remove watermark automatically using AI
Download Free Trial Video Watermark Remover AI
Before (with watermark) and after (watermark removed) using Pixbim Video Watermark Remover AI software
Try it: Download input video with watermark used in the above video
On the left is a frame with watermark, on the right is the same frame without watermark using Pixbim Video Watermark Remover AI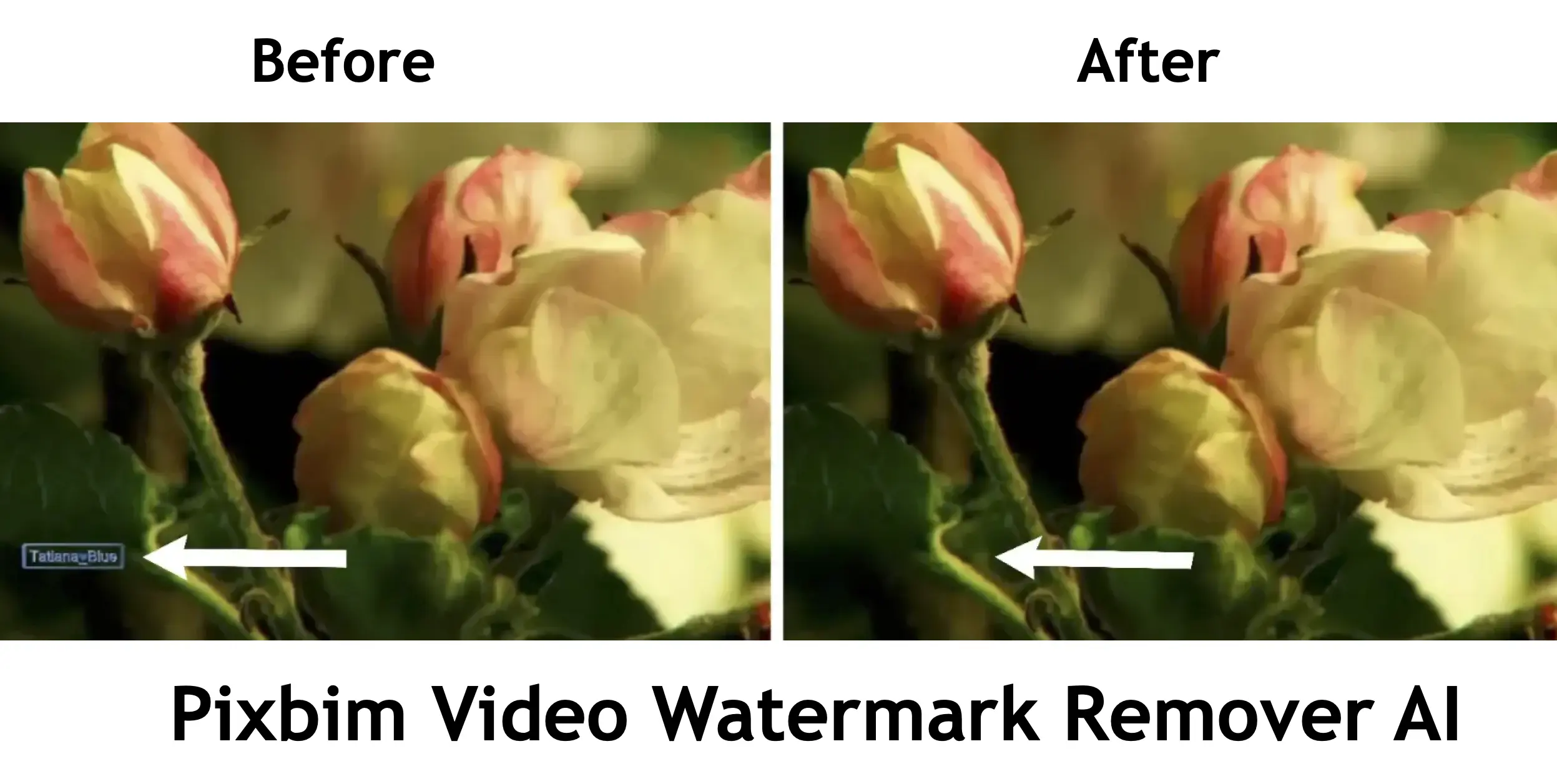 Download Free Trial Video Watermark Remover AI
Is it possible to remove watermark from video without blur?
Yes, it is possible to remove watermark from video using Pixbim Video Watermark AI without blur.
You will not notice the watermark in the output video.
How is Pixbim Video Watermark Remover different?
Our video watermark remover works on any background. The program does not blur the watermark instead removes it completely. We have a free trial version of our software so try it out and see the results for yourself.
WE BUILD SOFTWARE THAT USERS LOVE, THAT GIVES JOY TO OUR CUSTOMERS.
Buy Video Watermark Remover AI $25.99 $69
Before and after screenshot in Pixbim Video Watermark Remover AI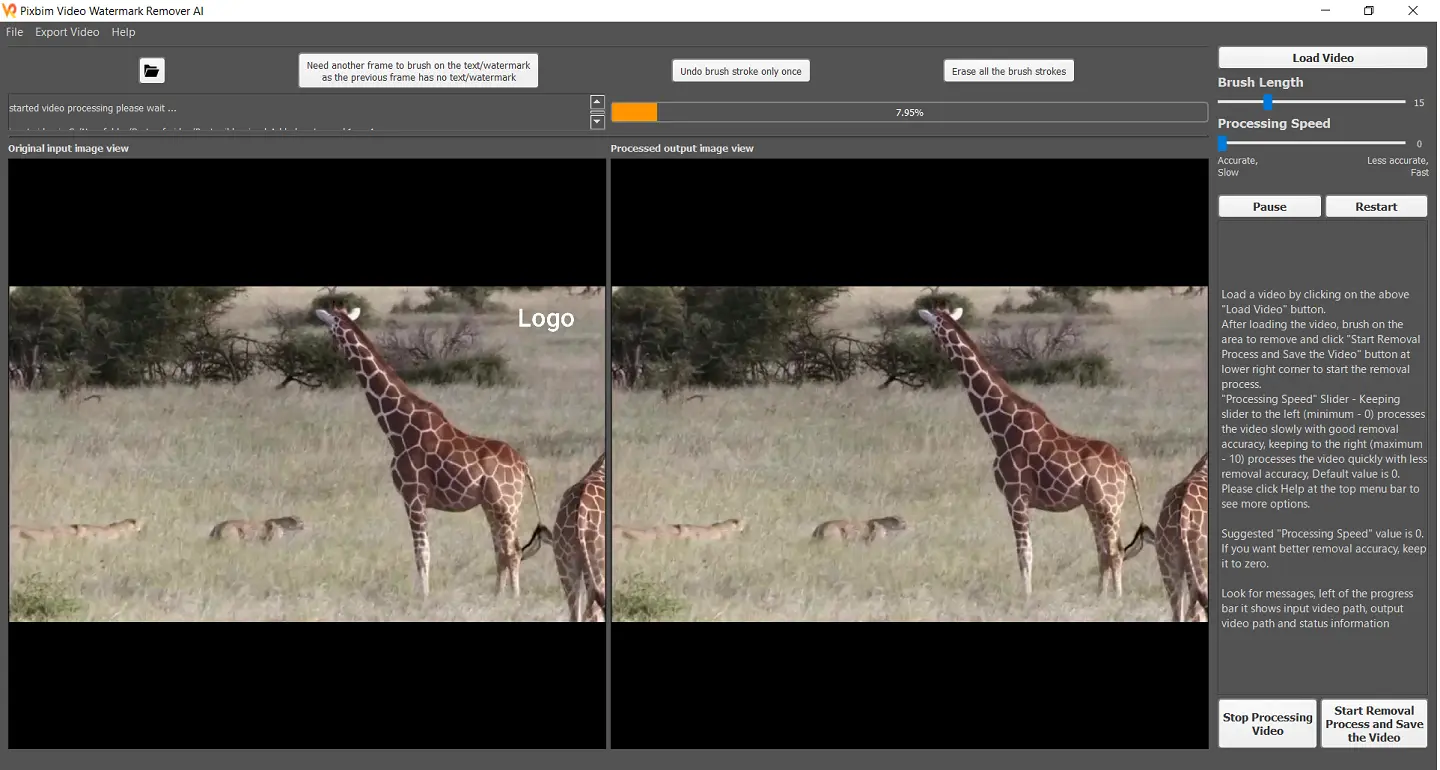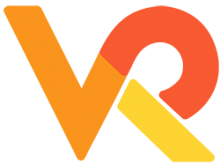 Pixbim Video Watermark Remover AI
Removing watermarks from videos can be quite tricky. However, our video watermark remover app can easily remove the watermark or text from your videos within a jiffy. You can get rid of objects that ruin your videos visual quality like logos, tiktok watermark, text, watermarks, contact information, timestamp and more. You can specify the region or object you want to remove using the software's manual brush.
Key features of Pixbim Video Watermark Remover AI -
Can remove watermark on unlimited number of videos without blur

Free trial available

Hassle-free, easy to use

One time purchase, no subscription

Your video data is completely processed on your PC, with the privacy you deserve

An easy-to-use user interface that can run on laptops or desktop systems
Buy Video Watermark Remover AI $25.99 $69
How to remove watermark from video?
Steps to remove watermark from video using Pixbim Video Watermark Remover AI
Load the video

Brush on the watermark to be removed

Click "Start remove process and save the video" button to save the video
STEP 1 - Load the input video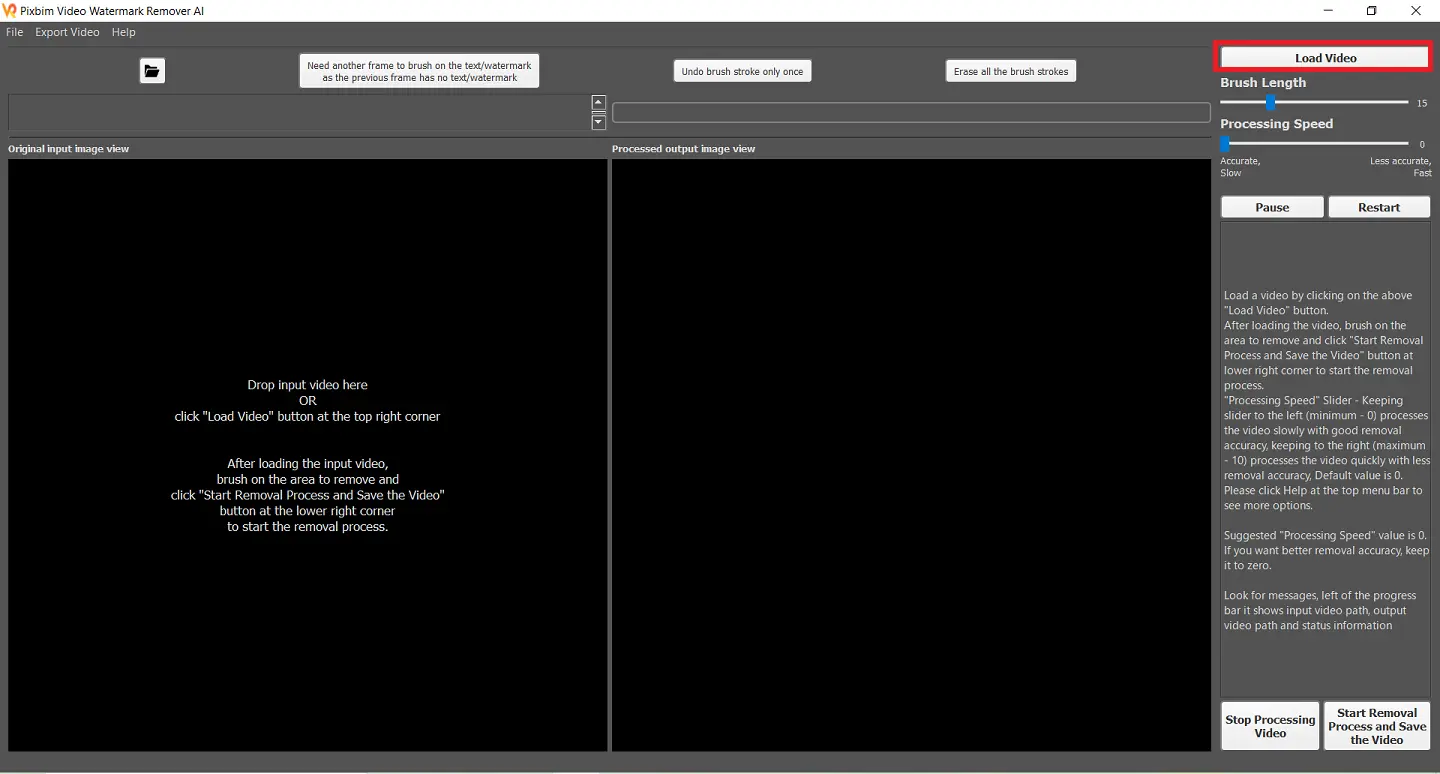 STEP 2 - Brush on the watermark to be removed as shown in the below image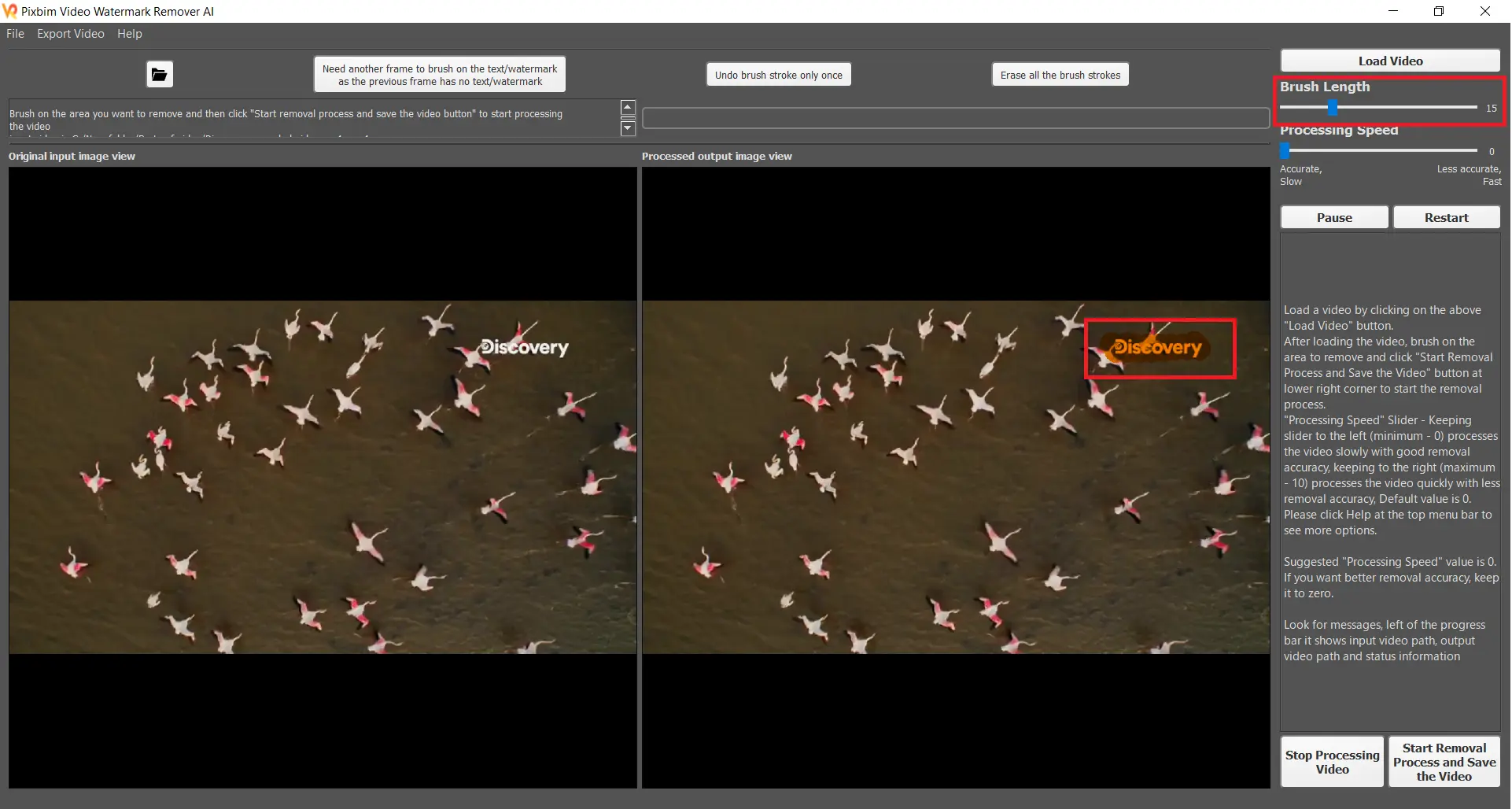 STEP 3 - Click 'Save the video' button as shown below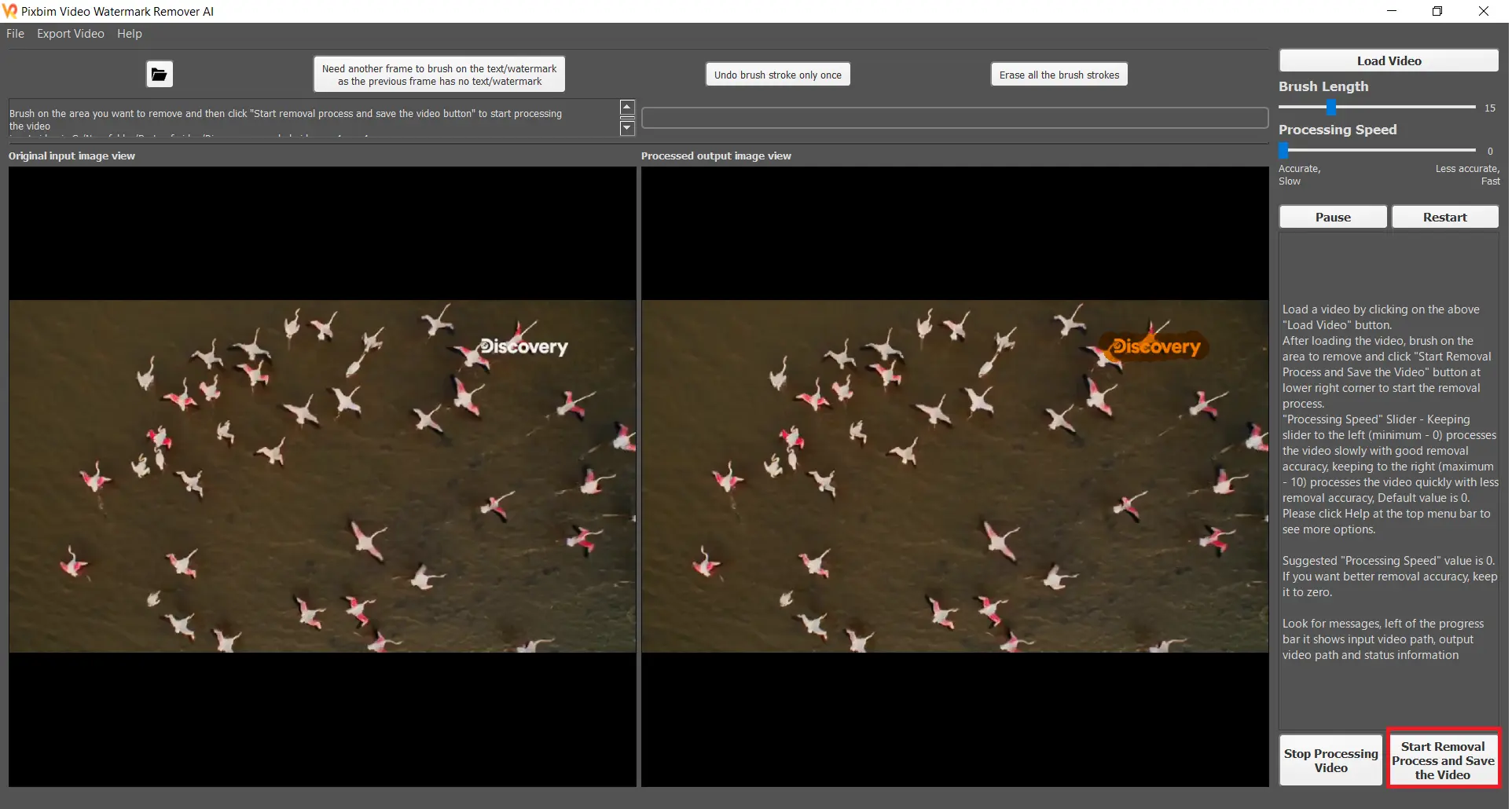 Try Video Watermark Remover AI for Free
You don't have to be an expert to use these programs. Pixbim Video Watermark Remover is equipped with cutting-edge Artificial Intelligence, with features that can professionally and automatically remove undesired watermark, text, tiktok watermark, logos with one click at affordable prices.
Which is the Best Watermark Remover For Video?
The AI algorithm removes the watermark, eliminates it, and the underlying spaces are filled with visual data to enable the seamless removal of static watermarks. Below mentioned are some of the exciting features of this remarkable software:
Easy to Use
Our video watermark remover can assist in effectively removing watermarks from videos. You don't need any prior skills or professional expertise to use the tools. It generates high quality results within a few clicks, making it a valuable tool for both amateurs and professionals alike.
Removes any kind of Watermark, Logo or TikTok watermark
Whether you wish to remove static or dynamic watermarks, the robust watermark remover will remove any unwanted object from your video. It is best to remove watermark from video without blur.
One-time Purchase & Free Lifetime Updates
The best part of this software is that it is not subscription-based, you don't have to keep paying to reap its benefits. Keeping the convenience of its users in mind, Pixbim AI-based watermark remover app allows you to just pay once and get all the exciting features and updates for a lifetime.
Safeguards Your Privacy & Preserves the Data
As a desktop-based program, Pixbim does not store video data of the end-users on its servers because all the processing happens on your computer. Since everything is done on your own system, all the files from importing into the software till saving the video are stored on your end, protecting your privacy at all costs. It is better than removing watermark from video online.
Below screenshot shows the output video path and file name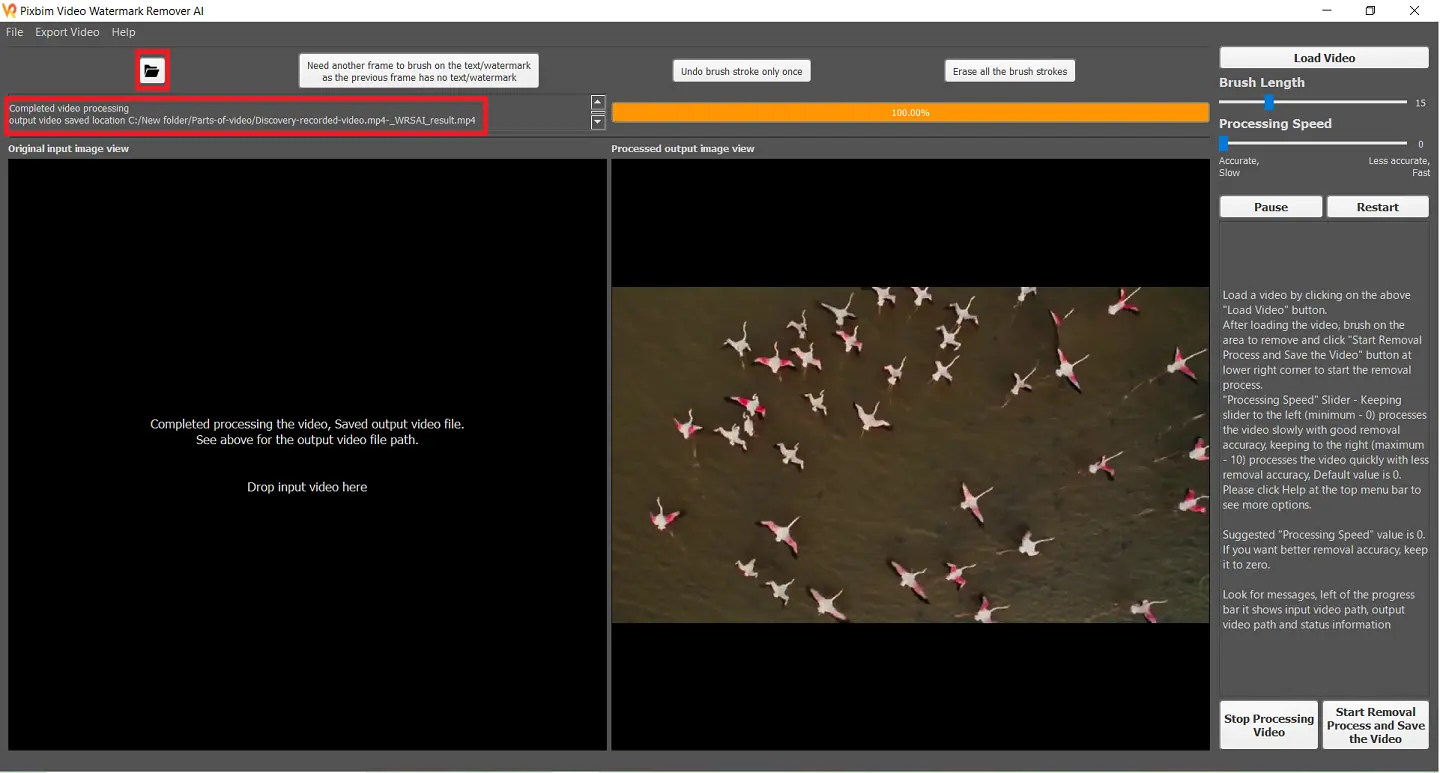 The current version is 1.0.2, if you face any download problems then please click "QUICK HELP" in the menu bar at the top of this page
Updates in version 1.0.2 -
Sample test videos added
Fixed bugs
Default settings changed (Processing speed slider set to zero for better accuracy and half CPU cores enabled by default to speed up processing)
You might be curious about how to use desktop software to remove the watermark from a clip. Pixbim is the best video watermark remover that offers a user-friendly interface that functions well while maintaining the quality of the video. This software to remove watermarks from a video can be incredibly helpful if you want to remove watermarks, logos, border texts, and even subtitles. Moreover, it is ideal for beginners without prior knowledge of video editing.
Many of them claim to remove watermarks for free. But most of them are ineffective as they crop video to remove the watermark or blurs the watermark or logo. Pixbim provides you with the easiest and the best solution!
How do I Remove Watermarks from Videos for Free?
Pixbim offers you to use the software to remove watermark from video for free in trial version for 7 days while having access to all of its features. You can process unlimited videos in this time frame and decide whether this software should be your work partner or not.
After that, you can simply purchase the software for a lifetime with no monthly or yearly subscription. The next to-be-made updates will also be free of cost, meaning updated technology and quality work with no worries of emptying your bank every time you need to use the software.
Below screenshot shows watermark frame on the left side and watermark removed frame on the right side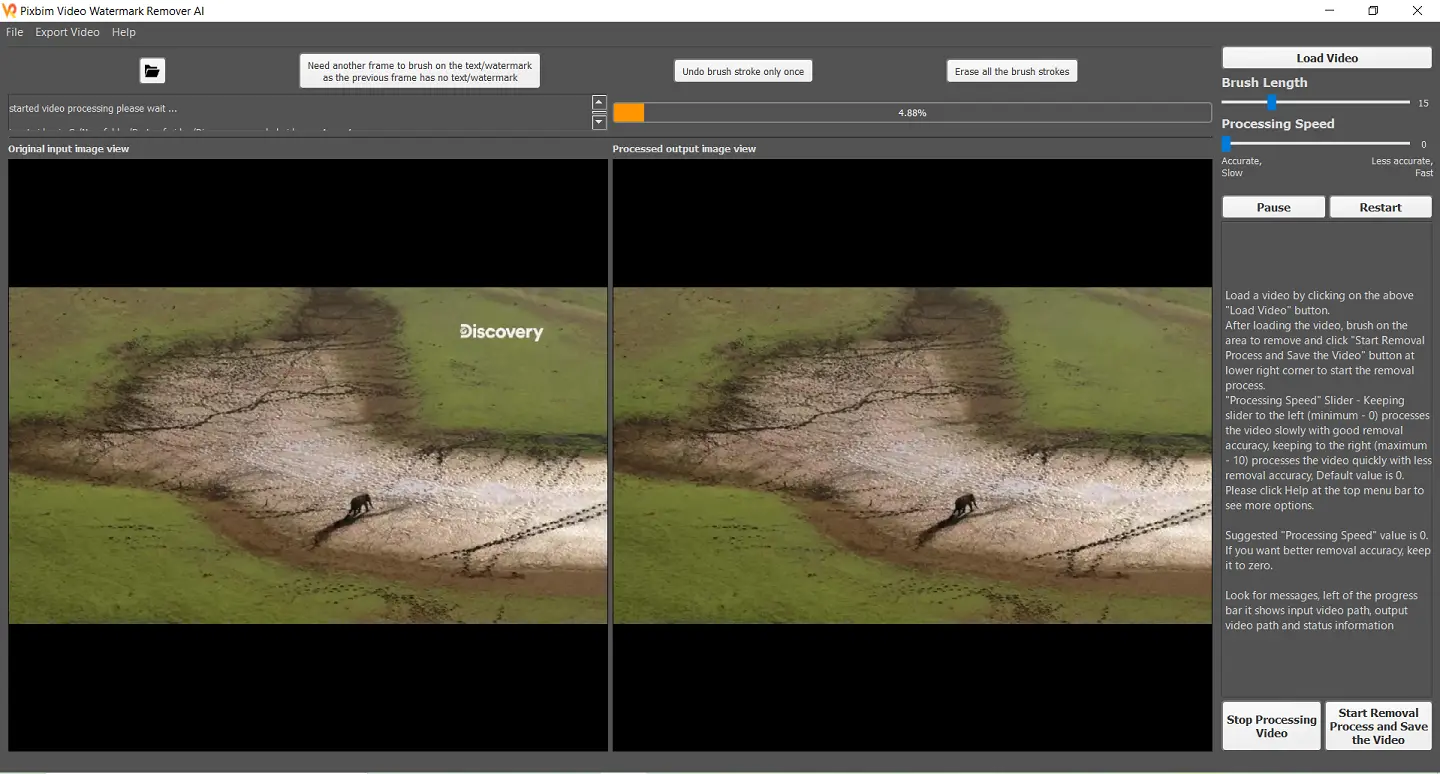 The user-friendly watermark-free video software with advanced technology has the ability to import different file formats, including MP4, MOV, WMV and others.
Pixbim helps remove watermark from video app, it provides the ability to remove watermark from video. The end result is watermark-free with high quality without blur.
Buy once, own forever
You own the software you bought forever. You will get free upgrades with your purchase.
30-day refund guarantee
If you don't like the product or if it doesn't work for any reason, contact us within 30 days for a 'no questions asked' refund.